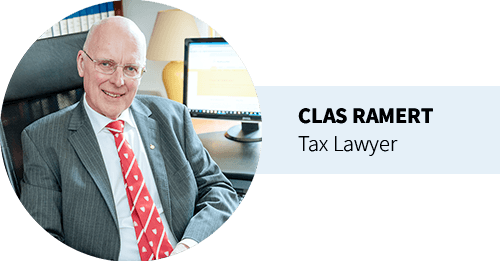 Clas Ramert was AB Volvo's head of taxation for over 13 years and also worked for Volvo prior to this in the group reporting field. Clas is a business administration graduate.
His 24-year career at Volvo's head office has provided substantial experience of financial issues and of tax law in particular. His expertise was especially in demand in respect to Swedish and international corporate structural issues, transfer pricing and tax lawsuits.
His role as head of taxation included, in addition to standard corporate matters, providing assistance to the tax policy department of the Federation of Swedish Industries on tax legislation affairs. Clas was also Volvo's representative on the tax committee of the West Sweden Chamber of Commerce and Industry.
Clas has been a tax consultant and entrepreneur since 1996. This has given him valuable insight into the problems faced by small businesses. He has also worked on issues concerning pensions and pension trusts, as well as general trusts. He has held courses on the tax regulations governing restructuring in industry and commerce and employers' pension costs in cooperation with the Association of Swedish Accounting Consultants and the Institute for Professional Education of Accountants.
Clas often represents companies and entrepreneurs in judicial proceedings in regard to tax issues. Clas is also a director of the Gothenburg section of Full Gospel Business Men's Fellowship International.
Clas speaks fluent English and also reasonable German and French. Clas is the managing director of Skattepunkten AB and works alternately in Göteborg and Stockholm.
Clas most recent work has involved international matters where Swedish entrepreneurs carry on business operations abroad and vice versa, VAT issues, dividend payments and capital gains on shares in private companies (the so-called Swedish 3:12 regulations), option programmes, the non-profit sector and religious communities.